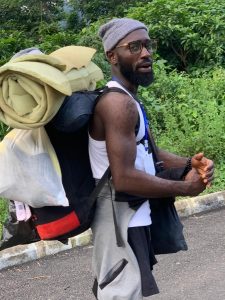 Well, let me first say IT WAS AWESOME
Have always been a lover of Humanitarian Services but I never believed it can come with ADVENTURE you can ever imagine that will BREAK YOU, MAR YOU AND ALSO MAKE YOU.
Camp Adventure Africa gave me a personal week that will forever be a blessing to my entire being, I must say traveling has always been my thing cause I love to explore a whole lot, but let me say that CAA has given me not just an opportunity to give to the society but has also given me the opportunity to explore beyond where I ever thought my love for traveling will, it was a week full of meaningful impacts, networking, meeting new people, climbing mountain I never imagine in my wildest dreams ever, I tell you if you can climb a mountain successfully and also come down successfully, then everything is possible in your life.
My experience started from the very first day of camp, meeting people have always look forward to seeing in person, the pairing into groups, the food, the stream bathing and of course the hiking by foot, the chirping of birds, the wave of the flowing waters, the Ekuru eating etc.
My most exciting moment was the Global Leadership Summit because aside me giving to the society through CAA, CAA also gave back to me in a tremendous way that is going to carry me through the rest of my life as regards my business through GLS session. "SEEKING FOR HELP IS NOT WEAKNESS BUT WISDOM" as we were thought by one of the speakers.
I want to thank CAA for the opportunity I had to really experience what exactly ESSENCE of life is all about
#CAA
#Volunteers
#Nigeria