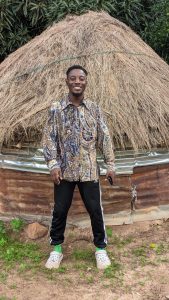 My 7-day summer adventure was an unforgettable journey filled with excitement, new friendships, and breathtaking sights. Our group of six, led by me, embarked on a journey that took us through the stunning landscapes of Osun and Ekiti States.
From the moment we arrived in Osun State, our group, consisting of Nike, J. Mercy, Dre, Joy, David, and myself, felt an instant connection. We became more than just teammates; we became a close-knit family. Our shared love for adventure and exploration brought us even closer together.
One of the standout moments of our trip was conquering the mighty Erin Mountain, nestled between Ilesha and Ekiti. The ascent was a challenging feat, testing our endurance and determination. But the feeling of accomplishment when we reached the summit was beyond words. The descent was just as thrilling, and we supported one another every step of the way.
Our visit to Erin water Fall was nothing short of magical. The cascading waterfalls glistened in the sunlight, creating a mesmerizing spectacle. The climb to get there was tiring but immensely rewarding. We stood at the edge of the falls, taking in the breathtaking view, and in that moment, we felt an overwhelming sense of unity and joy.
As our adventure continued, we found ourselves at Ikogosi Resort on the last day. The cool waters of the pool were a refreshing escape from the heat, and we embraced the opportunity to swim and relax. Our laughter echoed through the air as we shared stories and played games by the poolside.
But our journey was about more than just thrills and leisure; it was also about giving back. In each state we visited, we made community impacts to rural areas and engage in community outreach, we donated essential welfare materials, medical equipment, and educational supplies. The smiles on the faces of those we helped will forever be etched in our memories.
One of the most heartwarming evenings was our Afro party night. We danced, sang, and celebrated our shared experiences. The bonds we formed during that time were unbreakable, and the harmonious song we sang together and the drama presentation we put on showcased our teamwork and creativity.
As the 7 days came to an end, we reflected on the incredible memories we had created. Our team had transformed from strangers into lifelong friends. Our shared challenges, triumphs, and moments of pure joy had brought us closer than we could have ever imagined.
This summer adventure was a journey of self-discovery, friendship, and making a positive impact on the communities we visited. As we bid farewell to Osun and Ekiti States, we carried the lessons and memories of this remarkable journey in our hearts, knowing that the bonds we had formed and the experiences we had shared would stay with us forever.