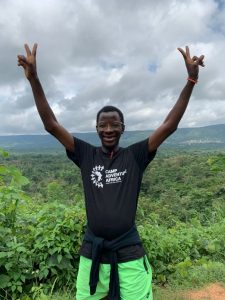 While basking in the euphoria of what is now a memory, and I know that @campa_africa camp can never be the same no matter how many times you've made it to camp, but this August summer camp came with lots of insight from all experiences combined together, among which I will be sharing few of them.
1. Humans NEED community. You can be lonely in a world where you're just existing without purpose and not living.
Yes, I have my job, my family, friends, social media and groups I am involved in. But, a vast network of talented and innovative likeminded individuals? I didn't have that. In fact, I've only ever had that with a group few years before. To become family with strangers in few days was a whirlwind of emotions in the best way (you do this one CAA) and I plan to continue pushing out of my comfort zone to create more community for myself.
2. LIVE and LEAD LIKE IT MATTERS
On this trip, I laughed, I cried, I danced and sang my heart out, I grew, I listened and I romanticized my life again. I watched the nature in awe. I leaned in to connect with other people and I connected with myself. It was another time I felt ALIVE in a while. There were some moments of Global Leadership session that were so surreal that I needed to trace my steps back, visualize and evaluate myself and access ways to continue to grow and be better to serve and lead.
I WILL LIVE AND LEAD LIKE IT MATTERS AGAIN.
It is my no 1 priority right now. I want to live my life out LOUD.
3. Life is SHORT, live it with a DIFFERENCE.
I know we hear it all the time but truly, it is so short. It is a necessity to fill your life with kindness, with people you love, places you love, things you love, your life needs to be overflowing with kindness, love, purpose, gratitude and adventure. Be a radiation of love and impact inside out to yourself, family, community and the world at large.
This have been my goal for years and now I have more push to continue here on out all my life because we are all we have to make the world a better place.
4. Be GRATEFUL and KNOW GOD FOR YOURSELF.
Even with our religious differences on this trip.
We are all humans who understand that there are forces working for and against you but by being THANKFUL and KNOWING GOD FOR YOURSELF in any way to connect to your creator is something that shouldn't be taken for granted.
Be THANKFUL for where you're coming from, where you are and where you are going.
PRAY for every big and little pieces of your life, and understand that sometimes your wish may not be granted, but the will of the Almighty shall come to pass which is far more and better our wishes, in the middle of this be GRATEFUL to God.
For the love of God,
For the love on oneself,
For the love of others,
For the love of humanity,
For the love growth…. Thank you CAA
With Love,
Moshobalaje Ahmed